Andreas Bollmann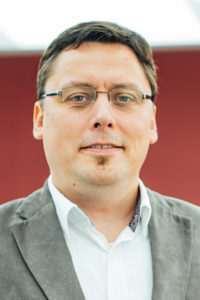 Andreas Bollmann holds a degree in biotechnology (Dipl.-Ing., FH) and is a trained biological-technical assistant.
After completing his vocational training, Andreas Bollmann started his career in the medical technology sector as an employee in manufacturing and quality assurance and then worked in several research institutions for tumor research at the Charité Berlin, where he acquired extensive knowledge of tumor biology. After his studies, he worked for 10 years in a medium-sized certified medical technology company in the field of tumor diagnostics, product development and as a production manager. He has participated in several patents, developed sterile clean room production processes and successfully accompanied certification audits in the field of quality management for 5 years. In 2015 he co-founded a company in the life science sector and since 2018 he is in charge of the quality management according to ISO 13485 and builds up the product manufacturing according to the (EU) IVD regulation 2017/746. His experience lies in the area of quality management ISO 9001 and 13485 and implementation of manufacturing processes for sterile medical devices and IVDs.
Based upon his experience and personality the following areas can be provided:
Development and implementation of manufacturing processes for (sterile) medical devices
Development and management of quality management systems 9001 and 13485
Patent development for innovative products and processes
Setup of safety laboratories up to S2 (genetic engineering level)
Commissioner for Biological Safety (according to Genetic Engineering Act)
Development and implementation of quality assurance processes
Andreas Bollmann is partner and co-founder of CORAK Innovation Management eG.
Andreas Bollmann